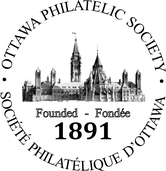 Welcome to the Ottawa Philatelic Society. Established in 1891,
we are Canada's oldest stamp club.
 1064 Wellington Street, Ottawa
THIS WEEKS ENTRY IS FROM ROBERT BENOIT

AS OF March 15, 2020
The City of Ottawa has closed all city facilities, including the Hintonburg Community Centre,
in order to minimize the spread of COVID-19.
OPS meetings have therefore been suspended until further notice.
We hope this won't last long, and we'll be in touch as events unfold.
MEMBERSHIP DUES NOTICE

The 2019/20 membership fee is $45.00.
Contact John Bryant by e-mail or send your cheque by mail to:
327 Clifton Road.
Ottawa, Ontario
K1Z 5V1
OUT OF TOWN AND IN TOWN STAMP                          SHOWS
For many shows in and around Ottawa, and the rest of Canada
CLICK here Shows