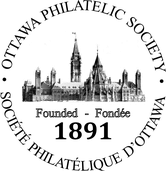 Welcome to the Ottawa Philatelic Society. Established in 1891,
we are Canada's oldest stamp club.
 1064 Wellington Street, Ottawa
It is that time of the year again!
FOR MORE INFORMATION ABOUT 2018/19 DUES
GO TO THE MEMBERS AREA.
Passing of Jim Brennan
Anna Brennan has informed us that her husband, Jim Brennan, passed away on April 7. Jim was a long-time stamp collector and member of OPS.
There will be a visitation at Hulse, Playfair & McGarry (on McCloud Street) on Tuesday, April 10th from 6 pm to 9 pm. A service will be held at St. Patrick's Basilica, Kent Street, at 10:00 am on Wednesday, April 11th.
Happening Now at the OPS

...
More information will be added as it becomes available, regarding Exhibit Night, speakers etc, Note also that unless otherwise stated, there will be regular meeting in conjunction with STUDY Group Nights.
March       NOTICE Change in 22nd and 29th
22                    GB SG in small Meeting Room
29                          EXHIBIT NIGHT                        
April
5                         OXFAM            CANADA SG in small Meeting Room
12                       GB SG in small Meeting Room
19                       US SG in small Meeting Room
26                  AUCTION – AUCTION – AUCTION
May 5-6, 2018      ORAPEX   
Theme: The Military  
May
3                       CANADA SG in small Meeting Room
10                       US SG in small Meeting Room
17                      GB SG in small Meeting Room
24         SPEAKER TBA: How to Read a Stanley Gibbons UK Catalogue
31           AGM, CELEBRATION and AWARDS
June
7                          OPEN MEETING
14                       OPEN MEETING
21                       OPEN MEETING 
28                       OPEN MEETING
Out of Town Stamp Show
For many shows in and around Ottawa, and the rest of Canada go to the Shows - tab of the navigation bar