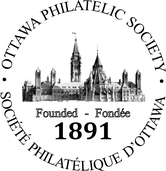 Welcome to the Ottawa Philatelic Society. Established in 1891,
we are Canada's oldest stamp club.
 1064 Wellington Street, Ottawa
Happening now at the OPS...
November 14th 2019

Exhibit Night
and
GB & Commonwealth Study Group in Small Meeting Room
"The Other Royal Wedding Celebration in 1947"

November 21st 2019

Speaker: Ian Smillie

"FORENSIC PHILATELY"
THE PHIPPS COVERS 1854 – 1916
MEMBERSHIP DUES NOTICE

The 2019/20 membership fee is $45.00.
Contact John Bryant by e-mail or send your cheque by mail to:
327 Clifton Road.
Ottawa, Ontario
K1Z 5V1
OUT OF TOWN AND IN TOWN STAMP                          SHOWS
For many shows in and around Ottawa, and the rest of Canada
CLICK here Shows