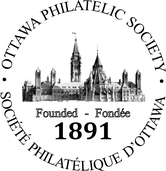 Welcome to the Ottawa Philatelic Society. Established in 1891,
we are Canada's oldest stamp club.
 1064 Wellington Street, Ottawa
It is that time of the year again!
RENEWAL TIME
FOR MORE INFORMATION ABOUT 2018/19 DUES
GO TO THE MEMBERS AREA.
Happening Now at the OPS

...
More information will be added as it becomes available, regarding Exhibit Night, Speakers etc, Note also that unless otherwise stated, there will be regular meeting in conjunction with STUDY Group Nights.
OTTAWA PHILATELIC SOCIETY
2018 – 2019   PROGRAM
September 6               WELCOME BACK MEETING
September 13             SHOW and TELL
September 20             CANADA Study Group in small meeting room
September 27             US Study Group in small meeting room
October 4                    Great Britain / Commonwealth Study Group in
                                    small meeting room
October 11                  AUCTION – AUCTION – AUCTION
October 18                  EXHIBIT NIGHT / KIDS AND STAMPS NIGHT in
                                    small meeting room                                     
October 25                  TOPICALS NIGHT / HALLOWEEN NIGHT
November 1                CANADA Study Group in small meeting room
November 8                US Study Group in small meeting room
November 15              EXHIBIT NIGHT & Great Britain / Commonwealth
                                    Study Group in small meeting room

November 22              SPEAKER - Elia Anoia, Stamp Services, "Stamp
                                    Program 2019"
November 29              AUCTION – AUCTION – AUCTION
December 6                CANADA Study Group in small meeting Room
December 13              OXFAM & US Study Group in small meeting Room
December 20              FESTIVE SEASON at the OPS
2019
January 3                    Great Britain / Commonwealth Study Group in
                                    small meeting room
January 10                  CANADA Study Group in small meeting room 
January 17                  SPEAKER- Edward Zaluski "Canadian revenues"                                         
January 24                  US Study Group in small meeting room
January 31                  EXHIBIT NIGHT & Great Britain /Commonwealth
                                    Study Group in small meeting room

February 7                   MINIEX at the RA Centre        (No Meeting)
February 14                 CANADA Study Group in small meeting room
February 21                 US Study Group in small meeting room
February 28                 KIDS AND STAMPS NIGHT in small meeting room
 SPEAKER- Bruce Kalbfleisch "Canadian
 postmarks"
March   7                     AUCTION – AUCTION - AUCTION
March 14                     TOPICALS NIGHT & CANADA Study Group in
                                    small meeting room
March 21                     US Study Group in small Meeting Room
March 28                     EXHIBIT NIGHT & Great Britain / Commonwealth
                                    Study Group in small meeting room              
April 4                         CANADA Study Group in small Meeting Room
April 11                       OXFAM & US Study Group in small Meeting Room
April 18                       Great Britain / Commonwealth Study Group in

                                   small meeting room
April 25                       AUCTION – AUCTION – AUCTION
May 2                         CANADA Study Group in small meeting room
May 4-5                      2019 ORAPEX ELIZABETHAN ERA PHILATELY
May 2                          CANADA Study Group in small Meeting Room
May 9                          SPEAKER- Robert Benoît
"The effects of WW2 on the French Postal
 System"                                                                                                        
May 16                        US Study Group in small meeting room
May 23                        Great Britain / Commonwealth Study Group
                                    in small meeting room
May 30                        ANNUAL GENERAL MEETING

June 6                         OPEN MEETING
June 13                       OPEN MEETING
June 20                       OPEN MEETING 
June 27                       OPEN MEETING
Out of Town and in Town Stamp Shows
For many shows in and around Ottawa, and the rest of Canada go to the Shows - tab of the navigation bar