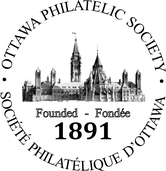 Welcome to the Ottawa Philatelic Society. Established in 1891,
we are Canada's oldest stamp club.
 1064 Wellington Street, Ottawa
MEMBERSHIP DUES NOTICE
The 2022/23 membership fee is $45.00
($40 if paid before June 30)
The Out-of-Town Membership fee is $10.00
Interac payments can be emailed to John Bryant
or posted to him by cheque at:
327 Clifton Road, Ottawa, Ontario K1Z 5V1
Please make your cheque payable to
"Ottawa Philatelic Society" (Not "OPS")
COVID-19 UPDATE
Until we have a clear indication from the City of Ottawa that we can use the Hintonburg Community Centre, our meetings will be hosted by Zoom Video.  Hopefully, it won't be long before we can meet again in person.  In the meantime, we will be continuing with our 2021-2022 schedule. To join our ZOOM meetings follow the link in the President's message sent to you weekly. 
OUT OF TOWN AND IN TOWN STAMP                          SHOWS
For many shows in and around Ottawa, and the rest of Canada
CLICK here Shows