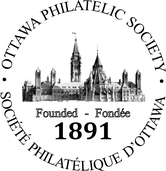 Welcome to the Ottawa Philatelic Society. Established in 1891,
we are Canada's oldest stamp club.
 1064 Wellington Street, Ottawa
Happening Now at the OPS...
Thursday December 13th is the US Study Group with the usual show and tell and questions and answers. "Bring your favorite US cover" will be led by Richard Logan. OXFAM will also be selling stamps, etc. at the Thursday meeting as well.
OUT OF TOWN AND IN TOWN STAMP                          SHOWS
For many shows in and around Ottawa, and the rest of Canada
CLICK here Shows