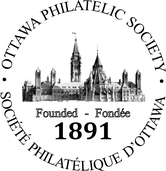 Welcome to the Ottawa Philatelic Society. Established in 1891,
we are Canada's oldest stamp club.
 1064 Wellington Street, Ottawa
Happening Now at the OPS...
March 21st  meeting
US STUDY GROUP MEETS 

This week the US Study Group meets and there will be a continuation of last year's Expertizing Services Part I. The focus this year will be on certificate types, grading and on-line resources to help identify stamps. The whole question of expertizing services is relevant to collectors of Canada and GB/Commonwealth stamps as well. This week's topic will be led by Gerhard Peters and Ron Tidrow.
Join NOW!
Membership fee for the remaining 2018-2019 calendar is 50%
Effective February 7th, 2019
Adhérez MAINTENANT!
Les Frais d'adhésion sont à 50% pour le reste du calendrier 2018-2019
En vigueur le 7th février, 2019
Click on this link!          Cliquez sur ce lien!
OUT OF TOWN AND IN TOWN STAMP                          SHOWS
For many shows in and around Ottawa, and the rest of Canada
CLICK here Shows