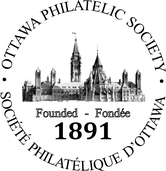 Welcome to the Ottawa Philatelic Society. Established in 1891,
we are Canada's oldest stamp club.
 1064 Wellington Street, Ottawa
Happening Now at the OPS...
May 16, 2019 MEETING

US STUDY GROUP MEETS  
This Thursday is the last meeting of the US Study Group. Aside from show and tell, questions and answers, Dick Logan will be leading the group in a discussion of "Bring Your Favourite US Cover Night".
OXFAM
Will be selling Canada and International stamps on May 16th.
MEMBERSHIP DUES NOTICE
Until May 31 the 19/20 membership fee is $40.00.
There after it is $45.00.
Contact Jean-Pierre in person or send your cheque by mail to: 
804-900 Dynes Road.
Ottawa, Ontario
K2C 3L6.
OUT OF TOWN AND IN TOWN STAMP                          SHOWS
For many shows in and around Ottawa, and the rest of Canada
CLICK here Shows