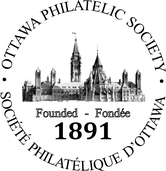 Welcome to the Ottawa Philatelic Society. Established in 1891,
we are Canada's oldest stamp club.
 1064 Wellington Street, Ottawa
Happening Now at the OPS...
This Thursday, February 21, the US Study Group will be meeting with the usual show and tell, and questions and answers. Dick Logan will be the presenter and the discussion topic is:
"The Allied Military Government Issues"
during the period 1945-1949.
Other OPS members collecting post-war Europe will also find this interesting.
Join NOW!
Membership fee for the remaining 2018-2019 calendar is 50%
Effective February 7th, 2019
Adhérez MAINTENANT!
Les Frais d'adhésion sont à 50% pour le reste du calendrier 2018-2019
En vigueur le 7th février, 2019
Click on this link!          Cliquez sur ce lien!
OUT OF TOWN AND IN TOWN STAMP                          SHOWS
For many shows in and around Ottawa, and the rest of Canada
CLICK here Shows