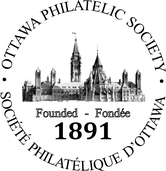 Welcome to the Ottawa Philatelic Society. Established in 1891,
we are Canada's oldest stamp club.
 1064 Wellington Street, Ottawa
Happening Now at the OPS...
Our November 8th meeting.
The US Study Group meets this Thursday. Aside from the usual show and tell, and questions and answers, the discussion leader will be Dick Logan who will be speaking to the 1893 Columbian Exposition issue. These 16 stamps celebrate the 400th anniversary of the discovery of America by Christopher Columbus.
OUT OF TOWN AND IN TOWN STAMP                          SHOWS
For many shows in and around Ottawa, and the rest of Canada
CLICK here Shows