International Polar Year 2007
Exhibit by Hank van der Linde
International research of the polar regions.
1882-83 was the first, motivated by Karl Weyprecht, an Austro-Hungarian naval officer:
Observers making coordinated geophysical measurements at several locations during the same year:
12 expeditions to the Arctic and 3 to the Antarctic
12 countries participated – Austro-Hungarian Empire, Denmark, Finland, France, Germany, Netherlands, Norway, Russia, Sweden, United Kingdom, Canada and the United States.
The second was in 1932-33 – 50 years:
Focused on observations to improve weather forecasting
44 countries participated
A world data centre was created – International Meteorological Organization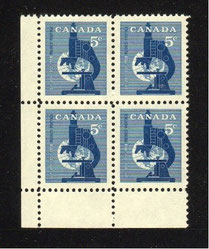 The International Geophysical Year (IGY) 1957-58 – 75 years
Focused on geophysical research
Involved over 70 national scientific organizations
Canada issued a 5 cent stamp – Scott #376 March 1958
2007-08 the Third International Polar Year:
Focused on climate change
Canada supported a $150-million research project called the Circumpolar Flaw Lead System Study – central pack ice moves away from coastal ice leaving open water
Led by Professor David Barber of the University of Manitoba
16 countries involved
Canada issued a se-tenant pair of 52 cent stamps – Scott #2204-05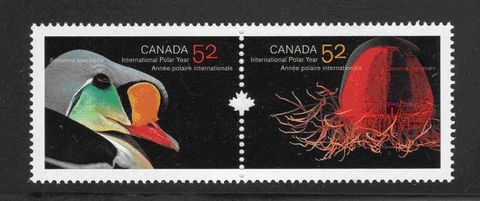 Issued February 12, 2007;
Full pane consisted of 8 se-tenant pairs in two rows with a "gutter" strip between them – a first!
Gutter strip contains the colour bar in the form of a thermometer with the Tillis Russell paper code as a Celsius figure;
Maple leaf perforation between the stamps – 2nd time – 2005 Canada/China big cats joint issue;
Male King Eider – native to Canada, Alaska and Greenland;
Crossota Millsaeare – brilliant-red recently discovered deep-sea subarctic jellyfish – size of the thumb;
In addition to English and French languages, Inuktitut was also featured;
Also issued as a souvenir sheet.
Sources:www.canadapost.ca and Wikipedia
Available for download here
International Polar Year 2007.pdf
Adobe Acrobat Document
182.7 KB