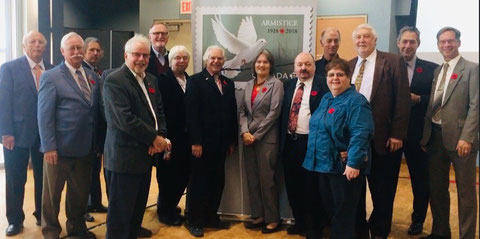 All our work has has been rewarded. Canada Post announced the new Armistice stamp in August and was followed by an official invitation to the unveiling on October 24, 2018. Several of our members were able  to attend this event.
Letter to Canada Post Armistice 1918-2018
Armistice Anniversary 2018.pdf
Adobe Acrobat Document
355.1 KB
ARMISTICE 1918
Dear Mr. Chopra,
I am writing on behalf of the Board of Directors and Membership of the Ottawa Philatelic Society, Canada's oldest stamp club, to express our deep concern that the program for Canadian stamps to be issued in 2018 completely ignores the end of World War I and the Armistice of Nov. 11, 1918.
Surely among all of the stamps to be issued in 2018 depicting sharks, bees, birds, sheep and flowers, there is a place to remember the sacrifice made by so many Canadians between 1914 and 1918.
Canada did issue a stamp in 2015 to commemorate the centennial of The McCrae poem, "In Flanders Fields" and another in 2017 to commemorate the centennial Battle of Vimy Ridge. Canada post had already issued stamps in 1968 to mark the 50th anniversary of these two events.
But there has been nothing at all, ever, to mark any other aspect of World War I. (We note that there will be a stamp to mark the centennial of the Memorial Cup in 2018; this is not in any way a substitute for a proper commemoration of the Armistice.)
Armistice Day 2018 will undoubtedly be a special occasion at cenotaphs across this country. France, Britain and other Commonwealth countries have already announced stamps to commemorate the Armistice. It is not too late for Canada Post to rectify this surprising and inexcusable oversight.
Sincerely,
John Tooth